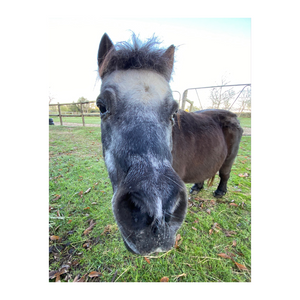 Ditch the itch!
Think we can all agree that there is nothing worse than seeing a horse suffer with itchy skin. Our beloved falabella, Pinot Noir, was one that was constantly seen perched up under a paddock fence giving her croup a good scratch. On closer investigation, beyond the obvious dry skin and hairloss, was red, hot and inflamed skin. 
With the use of 3 great products we managed to bring this pony much needed relief. We started with administering MaxiVet, an HOCl spray, directly onto the affected area. This antibacterial and antifungal agent helped to clean and prepare the skin for the products to follow.  Thereafter, we applied the Fulvic Enhanced Poultice directly onto the affected area. To prepare the poultice powder we mixed it with the Fulvic Enhanced Therapy Spray (it can also be mixed with water) to form a muddy texture. The "mud" was generously applied to the affected area and left on for 24 hours, rinsed and reapplied - for a period of 3 days. 
After the initial application with the Fulvic Enhanced Poultice, we continued with the Fulvic Therapy Spray alone, every so often; and are thrilled to share the results with you below. 
---